26
02
2011
Textbooks are big and they may seem to you that they have a lot of material in it, but it really doesn't at all. 
First I will give the details about Tecumseh that the textbook gives.
-He was one of the most talented Indian leaders.
-He was a Shawnee chief, a skilled warrior, and a brilliant speaker.
-He warned other tribes about dangers they would face from settlers.
-He wanted to make the American Indians, the South, and the eastern Mississippi Valley into a single confederation to oppose the American settlers.
-Him and his brother united these groups and gathered followers.
-He was thought of as a serious threat by governor William Henry Harrison.
-Tecumseh told Harrison about how the Indians were angry about the treaty.
-Tecumseh believed that the whites didn't deserve to to take land from the Indians because they had it first.
-Harrison told Tecumseh not to resist the power of the United States.
Internet facts on Tecumseh.
-Born in March 1768 in Ohio, and died on October 5, 1813.
-Tecumseh fought against the United States in both the Tecumseh's War and the War of 1812.
-Tecumseh told governor Harrison that he wanted to take back the treaty because the Indian's had the land before the Americans came.
-He went to the South to try to unite the Native American tribes. 
 -Tecumseh warned his brother not to fight against the Americans, but Tenskwatawa didn't listen and got beat in the Battle of Tippecanoe.
-Tecumseh and the British went to Canada and worked together to capture Fort Detroit.
-The Americans invaded Canada and killed Tecumseh during the Battle of the Thames.
Tecumseh became a hero and was remembered by Canada for his defense of the country.
I would say that the textbook does an average job of telling about Tecumseh, but the website that I found gave more details on his life.  If I was the editor of the textbook, I would have included a better description of how his brother didn't listen to him, why he went to the South, and how he got killed.  I would also use pictures with captions to describe the information better to make it more interesting.  I would have changed the fact that they didn't give many details on how Tecumseh and his brother died.
 http://www.ohiohistorycentral.org/images/218.jpg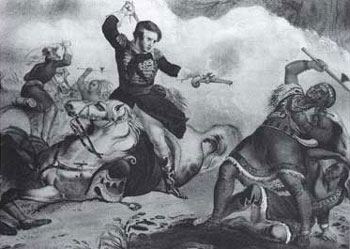 http://www.forttours.com/images/Encyclopedia%20of%20Indian%20Wars/tecumsehp98.jpg
I would have included this picture to show how Tecumseh died.
Comments :
No Comments »
Categories :
Uncategorized